photo album
SPECIAL EVENTS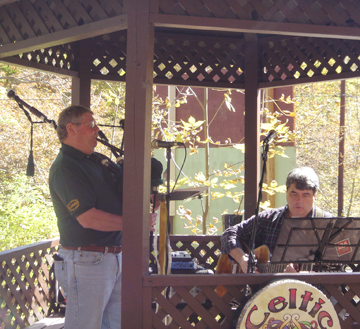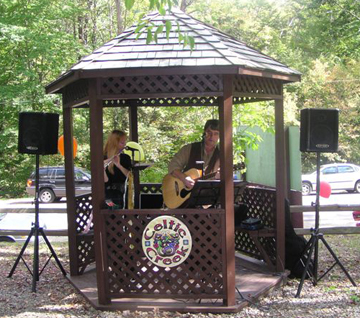 We performed many times at Tall Oaks Craft Show from 2005 to 2010, sometimes playing 12 hours over two days. At a couple, Neil Culbertson, our friend from Erie, PA, joined us on his bagpipes, to the delight of the crowd. This little pagoda was our home, until a new stage was built for us in 2007. Sadly, the craft show has cut back since the passing of one of its principal suporters.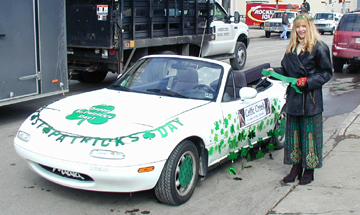 Here is Beth standing next to our decorated Miata as we wait to march in Erie's St. Patrick's Day Parade.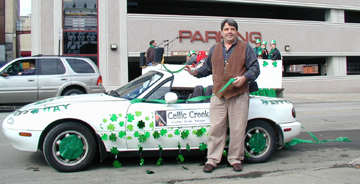 Here's another picture of me and the old Miata. Now we have a newer Merlot colored Miata.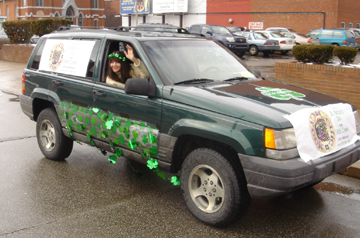 For another St. Patty's Day Parade the weather was a little rough, so we took the Jeep instead of the Miata. Here's Beth waiting in the warm truck for the parade to start. The Jeep's gone, too, replaced by a Subara Outback, which we love.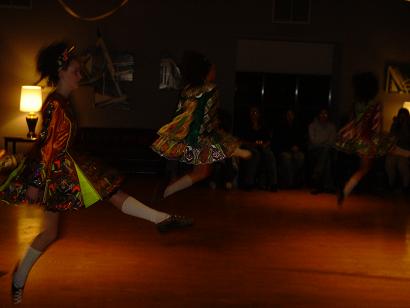 We played at Mercyhurst College, in Erie, the day after St. Patty's Day, and we were treated to watching these Irish dancers from Cleveland as they floated across the floor. It was a hard act to follow, especially after playing 6 jobs in two days. We were whooped.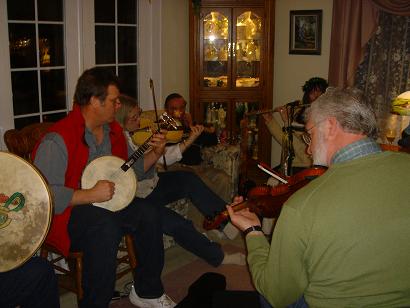 The Saturday after St. Pat's, we played at an event for the Irish society of Erie called the "I Survived St. Patty's Day Party". We were joined by 6 other musicians, two fiddlers, a banjo, a harmonica player, and two drummers. We played for hours. After this year, we began performing on a regular basis for the Erie Irish group. We opened the Erie Irish Festival in 2007.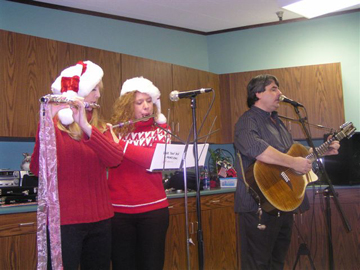 We were joined, in 2005, by my niece, Tina, who also plays flute, as we played at a few nursing homes for Christmas!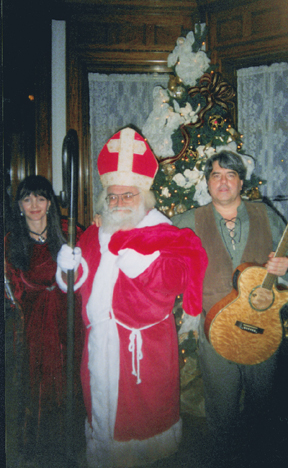 St. Nicholas poses with Celtic Creek at a Christmas show.

We've played so many places, Celtic weddings, family reunions, birthday party's, Fourth of July party's and more - and they are all special events to Celtic Creek, Drunken Sailors and Capt'n Kids.