photo album
PUBS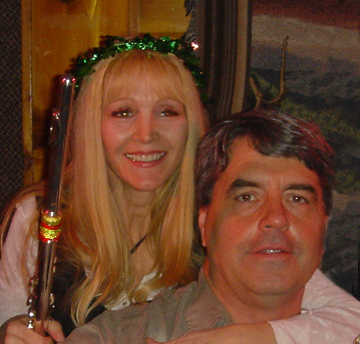 We performed 10 times for St. Paddy's Day, 2007, in just a week and a half. Whew!! In 2009 we played 6 jobs in 5 days, and two the following weekend. Every year, it seems, the two weeks around this holiday are so very busy. In 2012, we had three jobs on March 10th and four jobs on March 17th. CHECK OUR SCHEDULE FOR THIS YEAR'S ST. PATRICK'S DAY GIGS.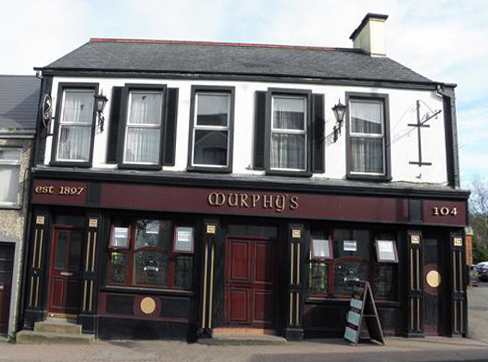 We don't have pictures for some of our pub jobs, including the night we played at Murphy's Pub in Dungiven, Northern Ireland. We were welcomed on stage by local traditional players and spent an incredible night with Celtic musicians and a wood carver who lives on an island and carves Celtic legends from bog oak - a night we will never forget! This was by far our most authentic night of playing Celtic music.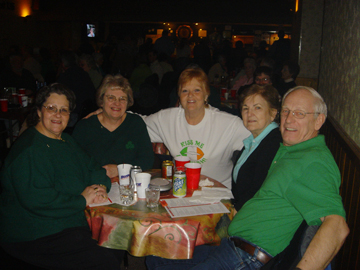 Some fans from the American Legion St. Paddy's Day Party. 2012 will be our eighth year in a row at this great place.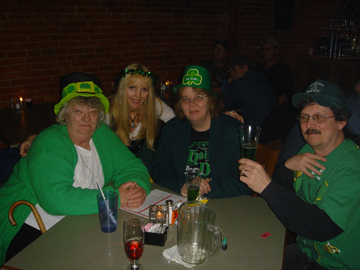 More fans from later that day.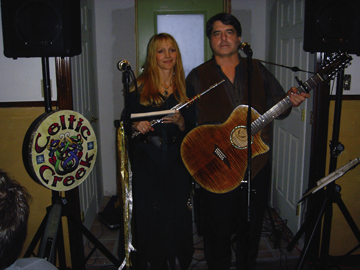 We were at the Little Brown Jug pub in Pittsburgh, PA on April 8th for a Scottish National Tartan Day event. We stay after the event and played on the larger stage for the general public. We've also played at Paddy's Pour House in Carnegie and Gillian's Pub, in Bulter, both old-town suburbs of Pittsburgh.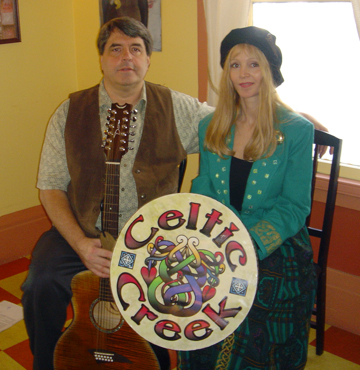 St. Paddy's Day at the Java Garden for a traditional Irish Dinner and celebration.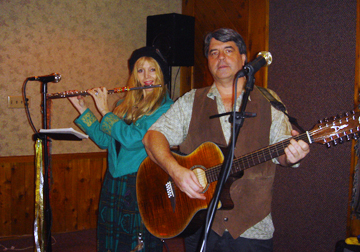 The Warren American Legion has become a regular for St.Paddy's Day. We were here from 2005 through 2011 for St. Paddy's, and will be back in 2012.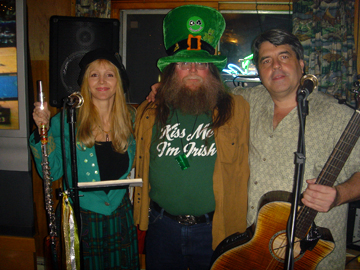 Late night at the Tippy Canoe Inn, where St. Patrick showed up, in person. At least that's who he said he was!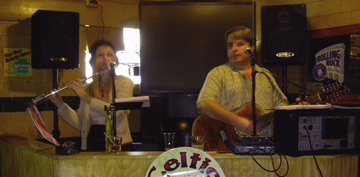 We performed at Gillian's Pub in Butler, and were joined by a great drummer. We had a pretty wild job - fours hours, one break! This is as genuine an Irish pub as you can find. We've also played at Paddy's Pour House, in Pittsburgh, and at Sean Patrick's Pub, in Olean, two more extremely Irish pubs.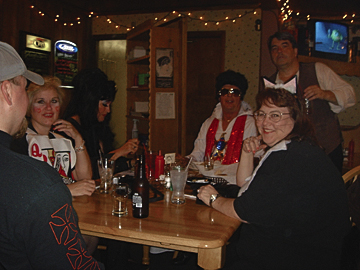 Halloween, and I'm standing with the winner - Elvis. I wondered where he was hiding; now we know!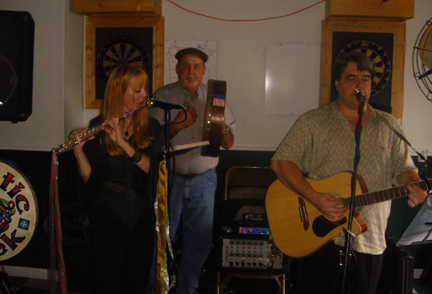 We performed at a Halfway to St. Paddy's Day Party, in Olean, NY, at a pub called Sean Patrick's. We were joined by two other bands. The drummer from one of those bands sat in with us for awhile. His name is Bill Connelly. His band is called Section 31. His granddaughters also have their own band. We also performed on St. Paddy's Day, 2007, at this same pub, and Bill sat in with us once again.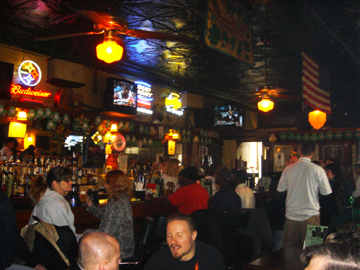 Here we are at Scullys Tavern, in Erie, PA, for a "Get Ready For St. Patrick's Day Party", featuring a delicious, traditional Irish meal. A week later we were at Clancy's Pub.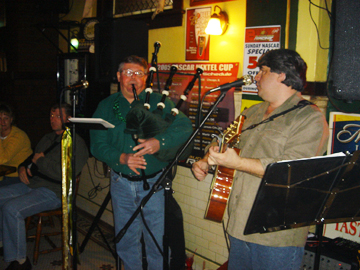 After the Erie St. Paddy's Day Parade we played at Clancy's Pub on East Ave. We were joined by a piper who played a few tunes. His name was Neil Culbertson, and later, in the summer, we played at Neil's home for two bagpipe groups, and plenty of family, who were present for Neil's birthday party. Neil has become a regular surprise visitor to our performances.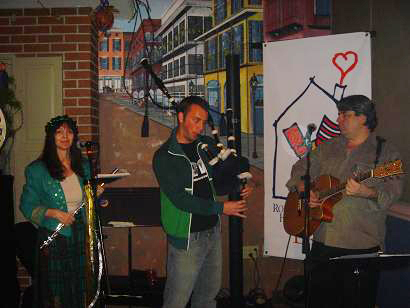 We were joined by another bagpiper, on St. Patrick's Day, as we play an evening job at the Paper Moon Restaurant, on State Street, in Erie.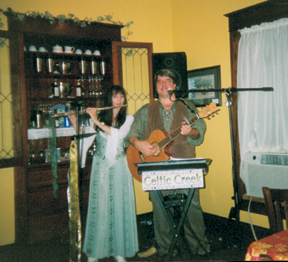 Here we are at the Presque Isle Winery, located on Route 20 in North East. We played several jobs here and our performance was always followed by a great meal provided by Valerie and her staff - lots of good wine, too. :)